Bill's Partyline August 2012
PEOPLE
Banjiro Uemura
Moving on slightly, I would like to congratulate Banjiro Uemura, the founder of Tohokushinsha (the company which owns The National). He was recently honored by the government with The Order of the Rising Sun Gold Rays with Rosette for his distinguished achievements as a leader in the entertainment industry. The Order, which has various levels – the Rosette is the third of eight – is awarded to those who achieve something special in promotion of Japanese culture or international relations, or those who advance their field. Over the years Banjiro has really supported me on my projects to help less fortunate children here in Japan, the Philippines and Papua New Guinea. I feel very fortunate and proud to have this exceptional man as a friend.
I send my sincerest congratulations to my friends at Sony Pictures for the spectacular world premiere of their blockbuster hit, The Amazing Spider-man, at Roppongi Hills. The movie's stars, Andrew Garfield and Emma Stone, made the trip to Tokyo with a large number of VIPs involved in the production of the film (take a look at our picture at the top of this page).
PARTIES
ALFS culture event at the Indonesian embassy residence

It rained a bit but it was still a beautiful day when Muhammad Lutfi, the Indonesian ambassador, and his chic wife, Bianca (she's from Austria) hosted the ALFS (Asian-Pacific Ladies Friendship Society) spring cultural event. The residence has a large exotic garden which had been decorated in an Indonesian style for the special event: there were many hand-painted umbrellas, a replica of a Balinese temple, a stage, an elevated catwalk and flowers everywhere. It was nice to hear ambassador Lufti give much deserved credit to his wife, Bianca, who, along with her many friends from ALFS and VIP visitors from Indonesia, had put a lot of time and effort into setting it all up. There was a fashion show, with the latest collections of two young Indonesian designers, Sebastian Gunawan and Priyo Oktaviano and traditional Indonesian dancing.
Algerian celebrations

In celebration of the 50th anniversary of Algerian independence and diplomatic relations with Japan starting, Sid Ali Ketrandji, the Algerian ambassador, and his lovely wife, Amal, brought two big cultural events from Algeria to Japan. The first was the award-winning Algerian National Ballet, and next was a series of concerts by the Algerian National Ensemble of Andalusian Music. The program of Algerian classical music, inherited from the Arab muslim epoch in Spain, was excellent.
Pakistan National Day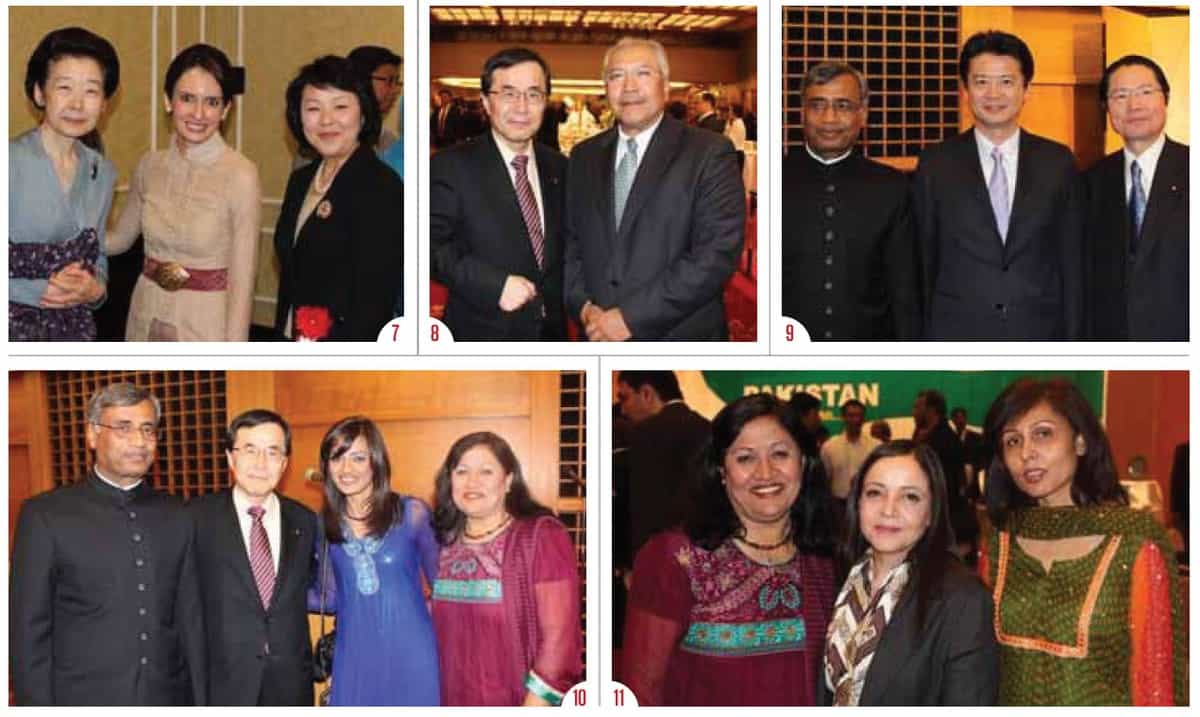 Noor Muhammad Jadmani, the Pakistani ambassador, and his wife, Amnat, hosted a colorful and elegant party at the Hotel Okura for their country's National Day. The ice carvings were awesome and the food couldn't have been any better. Ramzan Siddique (owner of the Siddique restaurant) and his staff had worked with the Okura's team and prepared some excellent Pakistani dishes. Special guests I met after dining and watching dancing that evening included a large group of Pakistani girls who were here to play cricket against a Japanese team; they all were very friendly and outgoing.
PLACES
Oakwood Premiere Midtown Celebrates its 5th Anniversary
This is another place I often stop by whenever I'm in the neighborhood. I love Oakwood's Midtown property; it's a perfect place to relax, do a bit of writing, meet people and really unwind. The staff are great – thanks you guys and girls, including Martin, Eric, Amy and all the others working there.
IsraAID and Hilton Tokyo reception

IsraAID, the Israel Forum for International Humanitarian Aid, which was set up in 2001, has been working closely with the Hilton Tokyo on all kinds of projects to help the victims of the 3/11 earthquake and tsunami. The first IsraAID team, who have a lot of know-how, arrived just four days after the disaster and distributed food, medicine and educational materials. Today, IsraAID regularly works with around 30 different groups, spread across eight cities in Miyagi and Fukushima. The Hilton Tokyo supports the activities, which include training teachers and aid-workers and holding leadership and therapeutic workshops. IsraAID hosted a 'Voices of Tohoku' reception at the Tokyo Hilton recently. It was a dynamic and interesting evening with a program that included informative speeches by Maira Aboulalia, the IsraAID chairperson, Jamie Mead, Tokyo Hilton's GM and Kunio Saito, the Mayor of Watari-Cho. It was nice to be able to be with so many people who do so much for others.
Big news for the Tokyo community: the late August opening of the new, ultra-modern National Azabu supermarket in Hiroo. The new home for the Tokyo institution of more than 50 years is much anticipated. The products it imports from around the world really make life easier and more enjoyable for those of us in Japan who occasionally miss home. Word has it that there will be a new deli counter and a Baskin Robbins and that hair salon, Maroze, will again be a part of the facilities. Perhaps the best things about 'The National', as most people call it, is that it has a really bright and cheerful atmosphere. I often run into old friends and am always meeting interesting people there. Check out the National Azabu Facebook page for more info. Hopefully I'll see you there! Helpful French-Canadian, Dale, who many of you will know, will be there every day.
*First published at the Tokyo Weekender
*Images Copyright: Tsukasa Shiga