The European Literature Festival 2022
100 years of European Literature Europe – then and now.
From November 22nd to 27th, the embassies of EU countries in Japan will host literary festivals throughout Tokyo.
The opening was moderated by Jean-Eric Paquet, the next European Union Ambassador to Japan, and featured the philosopher and thinker Kohei Saito, who has attracted attention for his best-selling "Anthropocene no 'Capital'", and the world-famous Dutch philosopher Rutger Bregman ("Humankind: A History of Hope") will be on stage.
For the theme of this discussion, the following two were chosen:
How we can restore trust in politics and protect democracy in a capitalist society
How we can confront the cynicism that is spreading in our society. Two are chosen.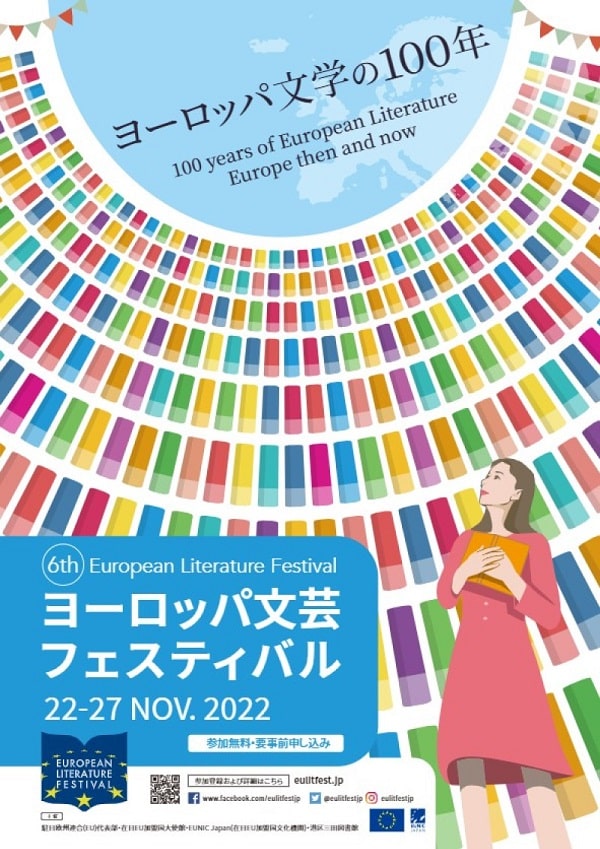 The detailed program is as follows:
22 Nov, 2022 17:30 – 18:30 Online
Opening session: dialogue Rutger Bregman and Kohei Saito
Moderator:Jean-Eric Paquet (Ambassador-Designate of the European Union to Japan)
23 Nov, 2022 12:30 – 13:30 Istituto Italiano di Cultura Tokyo
12:30 – 13:30 Finland
Translating Mika Waltari's The Egyptian
14:30 – 15:30 Poland
Quarks, Elephants & Pierogi: Poland in 100 Words

16:00 – 17:00 Italy
Pasolini from cinema to literature: new linguistic issues
17:30 – 18:30  Czech Republic
Czech shoemakers in the Brazilian jungle
France
Le Tiers Temps, with Mayliss Besserie
24 Nov, 2022 Czech Centre Tokyo
15:00 – 16:00  Bulgaria
The wonderful world of Bulgarian folk tales
16:10 – 17:10 Denmark
Art and science – finn foton og kvantefysikken (Finn Foton and Quantum Physics) and TABTE SOMRE (Lost Summer)
17:40 – 18:40 Czech Republic
Origami language with the flavor of magic mushrooms
18:50 – 19:50 Sweden
Storytelling for children – how to overcome culture and market differences when working internationally
25 Nov, 2022 17:00 – 17:50 Instituto Cervantes Tokyo
17:00 – 17:50 Slovakia
War in Ukraine
18:00 – 18:50 Spain
Nature, ZEN & Western art (From Gaudi to the beat generation and modern literature)
19:00 – 20:30 
Words go further: present and future of translated literature in Japan
26 Nov, 2022 Minato City Industrial Promotion Center, 11F small hall
10:00 – 10:50 Estonia
A Small Nation's History Defying Great Powers: Where does Estonia's power come from?
11:00 – 11:50  Hungary
Hungarian poets and War
13:30 – 14:20 Cyprus
Writing from Cyprus: Poetry and Literature Unite What War and Conflict Divide
14:30 – 15:20 
Panel discussion
War and Poetry
15:30 – 16:20 Greece
The Greek connection: Relating Greek to Japanese poetr

26 Nov, 2022 Aoyama Book Center Tokyo
18:00 – 20:40  Ireland, Portugal
Echoes from Europe's Western shores
27 Nov, 2022 Instituto Cervantes Tokyo
10:00 – 12:10 German and Austria
Writing from Germany and Austria
Part 1 (Germany): She came from Mariupol – Reading and Talk with Natascha Wodin
Part 2 (Austria): It All Started with Ilse Aichinger – On the 100th Birthyear-Anniversary
13:10 – 16:00 Portugal, Lithuania, Ireland
100 years of European Literature
For registration: (DAY 5A) ヨーロッパ文芸フェスティバル 2022 (European Literature Festival) | Peatix