Tokyo National Museum, The Digital Gallery of Horyuji Treasure
Tokyo National Museum, The Digital Gallery of Horyuji Treasures. Cutting-edge technology provides a new view on Japan's antiquities
When it comes to Japan's world-class cultural heritage, surely one of the first places to come to mind is the famous Horyuji Temple in Nara Prefecture.
An event was held recently at the Tokyo National Museum to share information about Horyuji Temple, and art works once preserved there. To help bring that information to international audiences as well as people within Japan, Alice Gordenker, a journalist who has lived in Japan for many years and has a deep knowledge of Japanese art, provided commentary in English.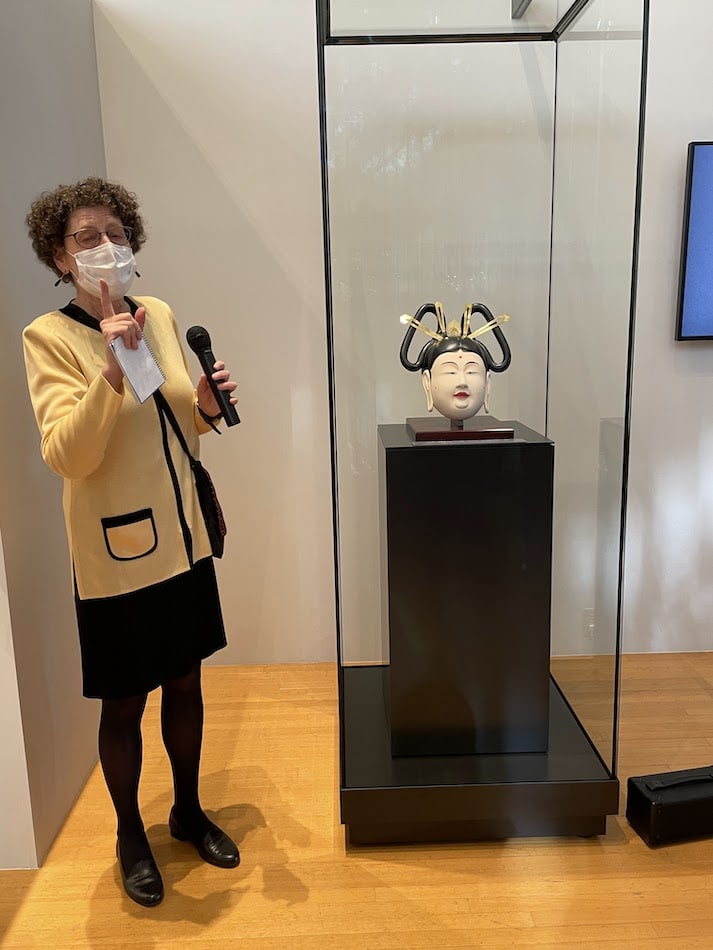 Horyuji Temple, recognized as the world's oldest existing wooden structure, was built in the early 7th century by Prince Shotoku, the son of Emperor Yomei. It was originally named Ikaruga-dera but is more generally known as Horyuji.
In 1878, more than 300 treasures that had been preserved within were donated to the Imperial Family, and then in 1964, a special gallery — The Gallery of Horyuji Treasures — was opened at the Tokyo National Museum for the purpose of preserving them and sharing them with the public. The original gallery was replaced in 1999 with the building that stands there today.
At the Gallery of Horyuji Treasures, new digital content that makes full use of modern technology allows us to appreciate some of the most prized treasures from the Horyuji temple collection. Reproductions based on the latest science and technology also give us the opportunity to view certain treasures as they may have been at the time they were made.
Currently on view is digital content related to the "Illustrated Biography of Prince Shotoku," a National Treasure. Originally mounted on sliding doors, this painting by Hata no Chitei was completed in 1069 and is the oldest extant painting describing the life of Prince Shotoku. It is a masterpiece consisting of 10 panels that together depict more than 50 episodes from the life of Prince Shotoku. However, a great deal of time has passed since the work was created and significant damage is evident. However, thanks to new high-quality reproductions and digital images that can be displayed and enlarged on an 8K monitor, we are now able to see details that are now otherwise difficult to see.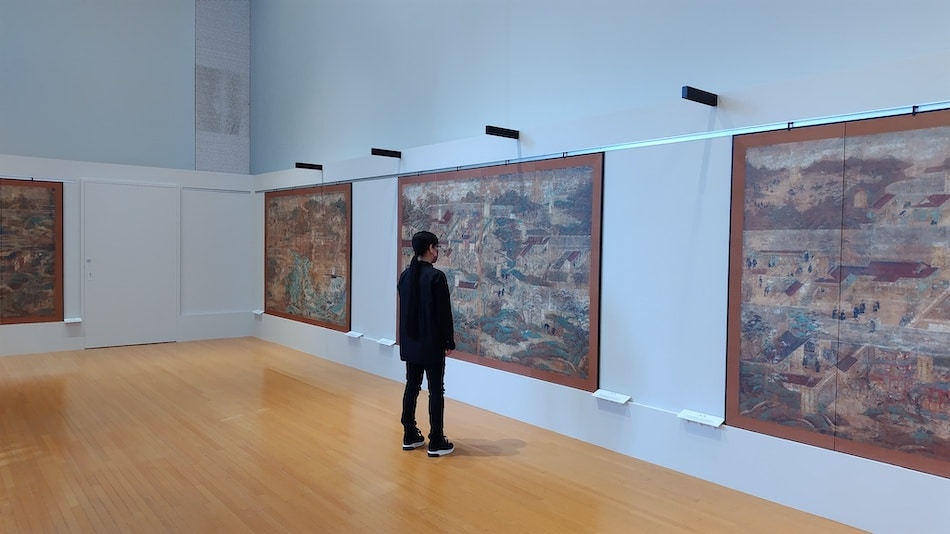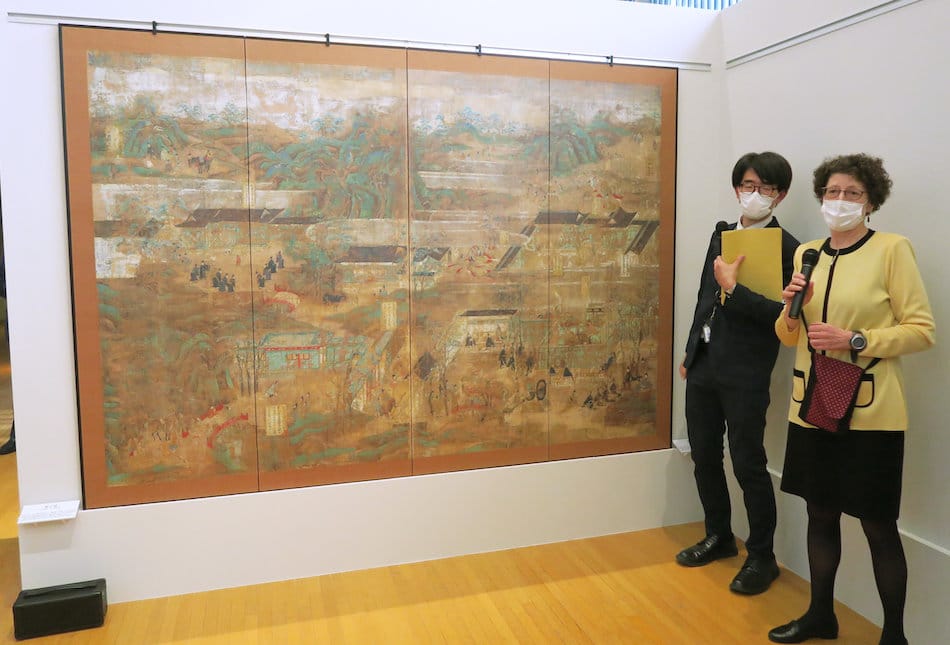 There are many stories about Prince Shotoku that are still told in Japan. Among them, the most well-known is the "Toyosatomimi" legend, which holds that Prince Shotoku was able to hear the words of 36 children speaking to him at once, and to repeat all their words back perfectly. This scene is included in the "Illustrated Biography of Prince Shotoku."
Visitors to the museum can greatly enlarge various scenes as they may wish according to their own interests. In doing so, they can gain a deeper appreciation of why Prince Shotoku is still spoken of today as a genius and his memory is preserved in so many legends.
The Gallery of Horyuji Treasures also holds a collection of original Gigaku masks. Gigaku is a Buddhist performing art that was transmitted to Japan from the Asian continent in the 7th century, during the lifetime of Prince Shotoku. Its popularity declined over later centuries and it eventually died out completely. Many of the Gigaku masks portray the faces of people from faraway lands, such as China and Persia, and speak to the early history of exchanges between Japan and other countries in Asia and along the Silk Road.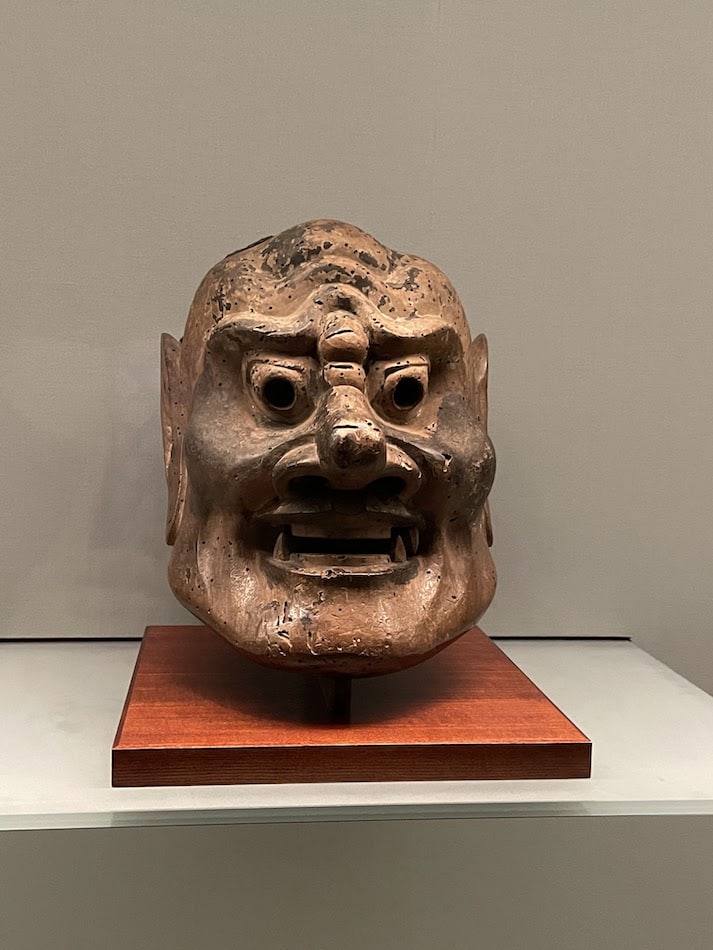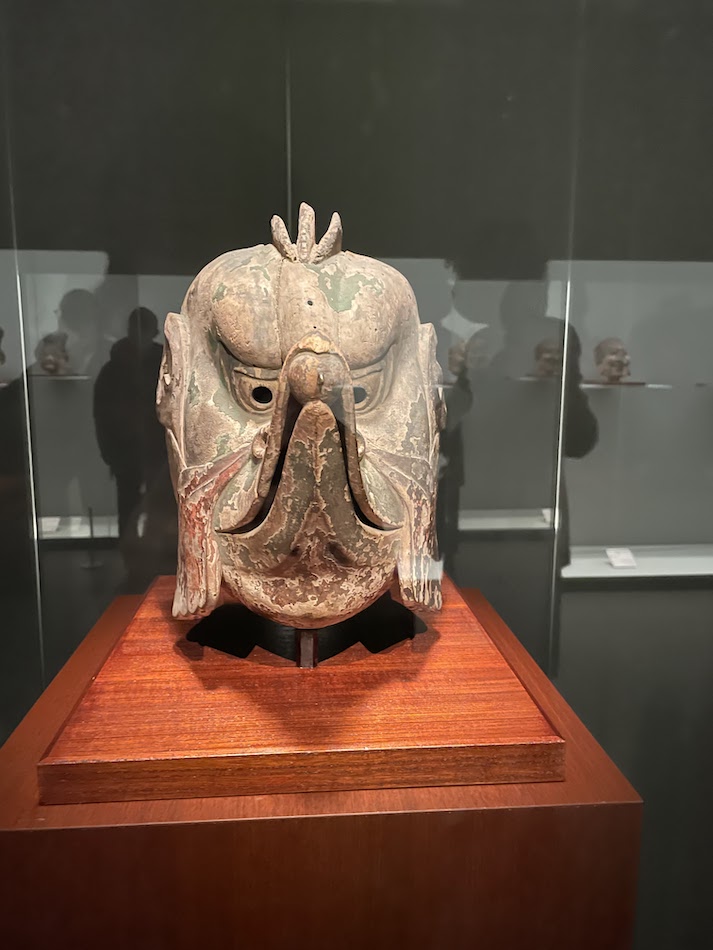 Reproductions of two of the Gigaku masks, damaged over the long years, have now been made using the latest scientific investigation and scholarly understanding. Some information used in making the reproductions was acquired through cooperation with a museum in Germany. Currently, a reproduction of the "Gojo" (Woman of Wu) mask is on view. From Aug. 1, a reproduction of the "Garuda" bird-deity mask will be on display, showing the mask as it was when complete and still with all its colors.
Reproductions of two Gigaku costumes were also made, a type of skirt called "mo" and a robe worn by men called "ho." It is very interesting for modern viewers to see the elegant designs and bright colors worn by people so long ago.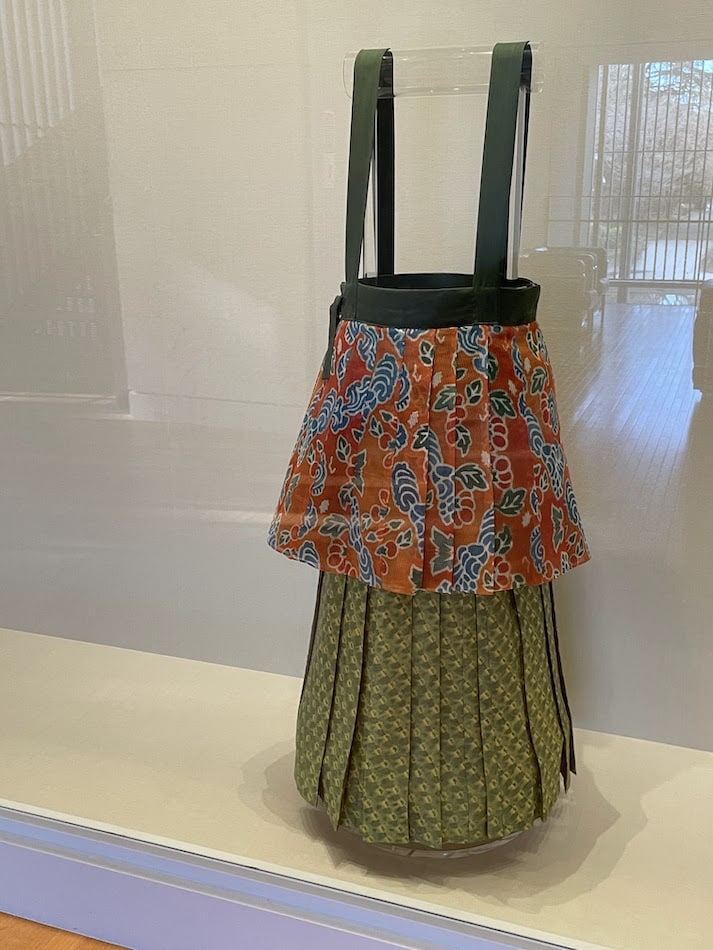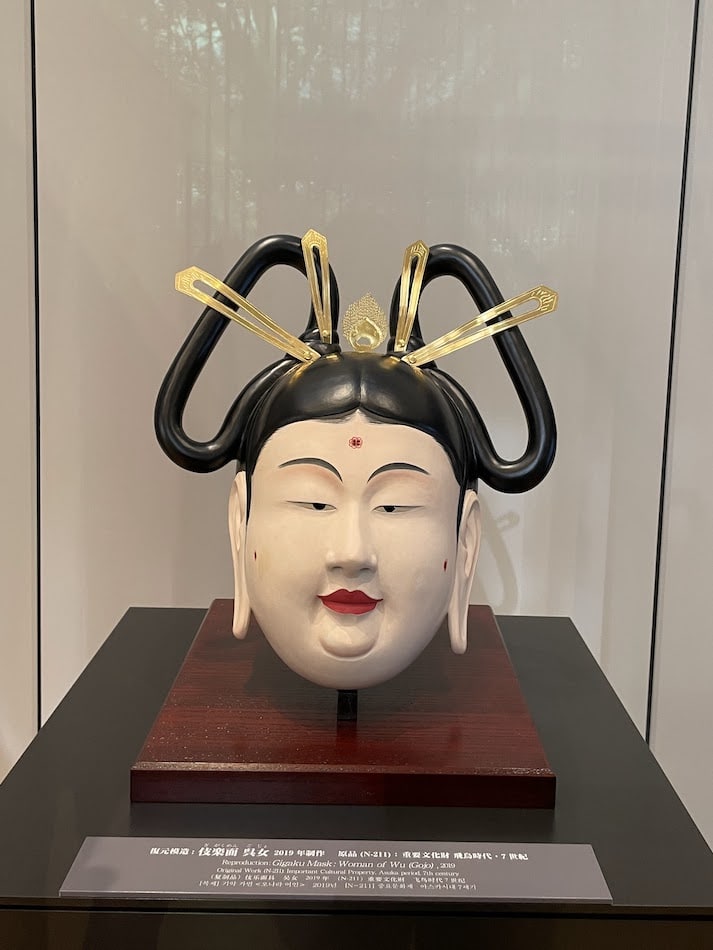 The Tokyo National Museum is a wonderful resource for those wishing to learn more about Japanese culture and history. On your next visit, I encourage you to make time to visit the Gallery of Horyuji Treasures and experience how this new digital content brings ancient Japan to life.
For more detail, visit Tokyo National Museum website