Jazz Club "D-Bop" Jazz Club Sapporo, Listen to crystal jazz on a freezing Sapporo night!
D-Bop Jazz Club Sapporo is leading the jazz scene in Hokkaido, where talented artists from New York, the home of jazz, and famous domestic artists perform every day. On February 3, 2023, a jazz night will be held centered on Swedish players.
Appearances include Björn Arkö, who has performed at the Nippon Budokan concert of EXILE members and is very active in Japan, and Anna Högberg, a jazz singer who is active in Sweden, the United States and Japan. Anna Hägberg uses her clear, crystal voice to perform traditional Swedish tunes, Nordic standards and Björn Arko's original compositions.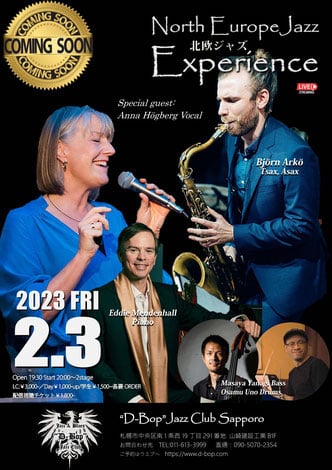 Nordic Jazz Experience Live At "D-Bop"Jazz Club
Open 19:30 Start 20:00~2stage
Members:
Bjorn Arkö Tsax, as Asax
Special guests: Anna Hogberg as Vocal
Eddie Mendenhall as Piano
Masaya Yanagi as Bass
Osamu Uno as Drums
Visitor ticket
LC: ¥3,000-/¥4,000- on the day/Student discount ¥1,500- (each order required)
Easy smartphone reservation from HERE
Live Streaming with High quality sound 4 camera distribution viewing ticket from HERE
Sapporo "D-Bop" Jazz Club official HP https://www.d-bop.com
Address: Sapporo City Chuo-ku Minami 1-jo Nishi 19-291 Yamaaki Heights B1F
Tel: 011-613-3999
Read also