Celebrating St. Patrick's Day, Irish National Day in Tokyo
The Embassy of Ireland in Japan held an in-person reception on March 10th, at the Okura Tokyo for the first time since 2019 to celebrate Ireland's national day, "St. Patrick's Day," which had been canceled due to the coronavirus pandemic.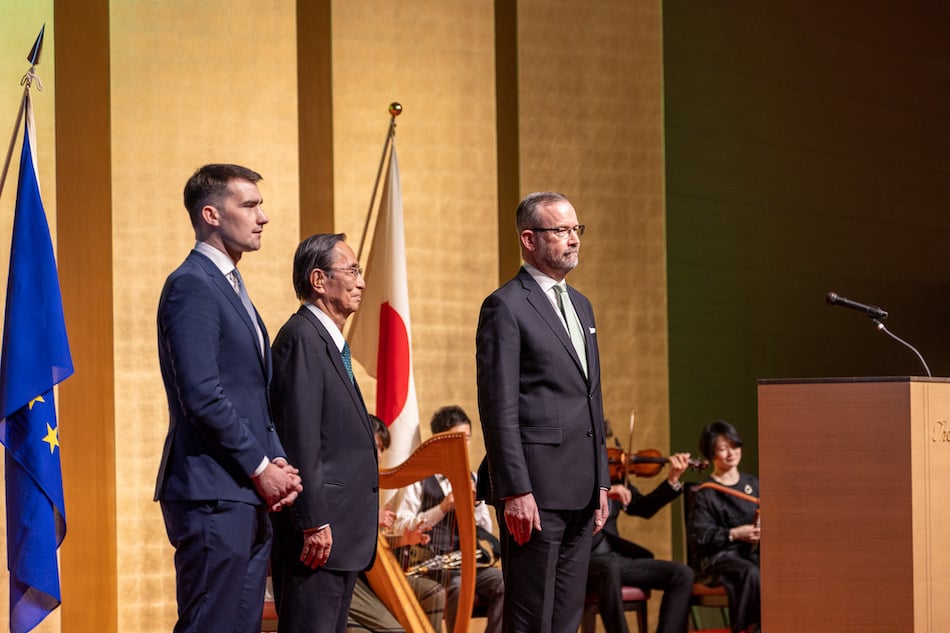 Saint Patrick's Day, on March 17, is the anniversary of the death of Saint Patrick, who introduced Christianity to Ireland. It is a public holiday in Ireland. Approximately 70 million people around the world, including people with Irish roots and friends, celebrate this day.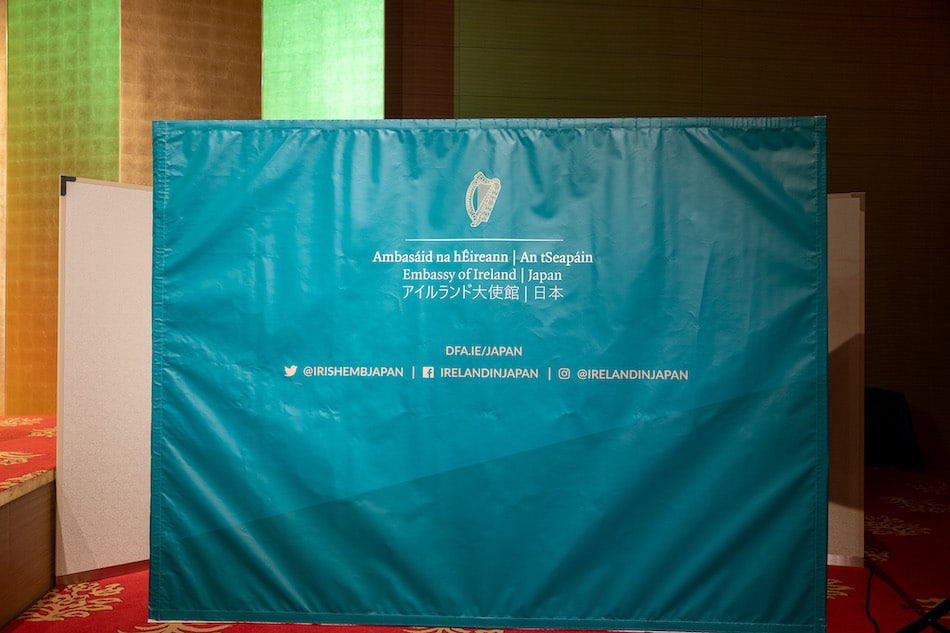 In Japan, events have been held in various places since 1992 with the intention of making Ireland better known in Japan. Face-to-face events resumed this year, and more than 20 parades and events will be held in Japan, including Sapporo, Yokohama, Matsue, and Kumamoto.
The realization of these events and parades has been led by the Irish community in Japan and their Japanese partners. H.E. Mr. Damien Cole, Irish Ambassador to Japan who arrived last year, expressed his sincere gratitude to those who have made steady efforts to prepare for this day.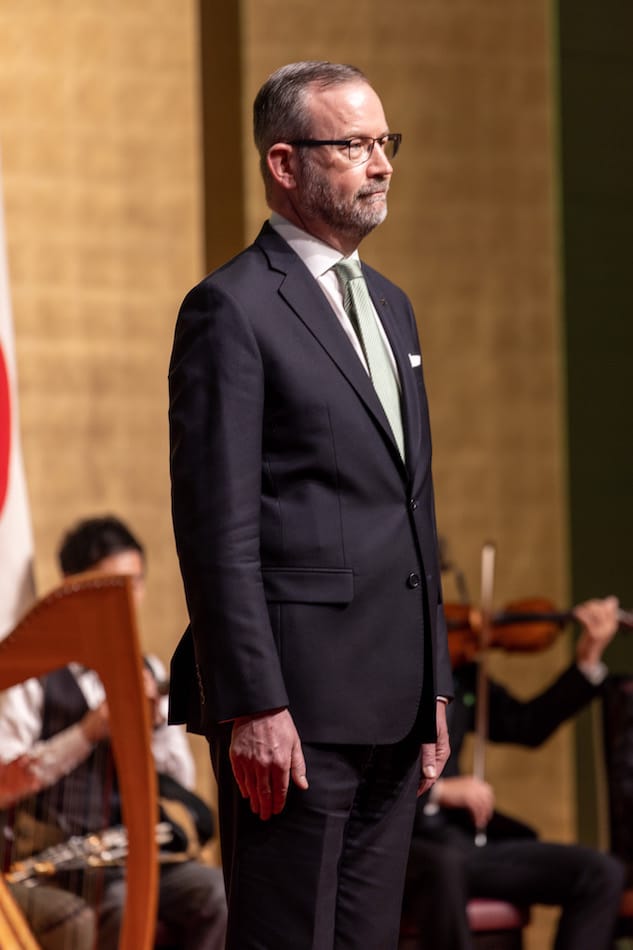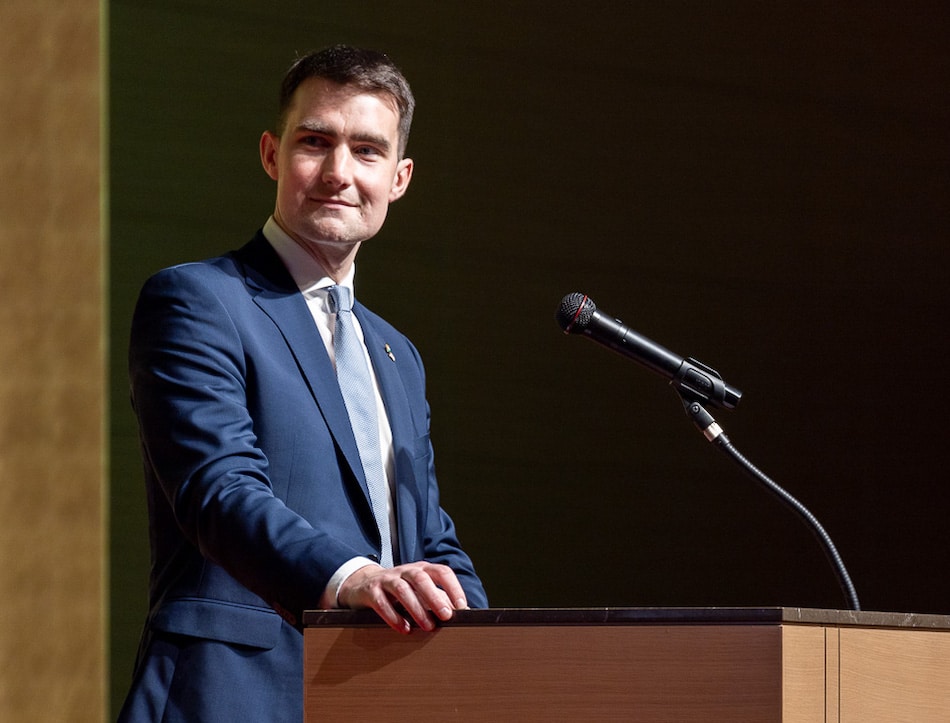 As part of this year's St. Patrick's Day program, Jack Chambers T.D.,Minister of State at the Department of Transport and the Department of Environment, Climate and Communications visited Japan and attended the reception.
Minister of State Chambers expressed his joy at being able to gather with Japanese officials and friends to celebrate Ireland's National Day after the COVID-19 pandemic. At the 2020 Olympic and Paralympic Games in Tokyo, Irish athletes performed very well, and sports exchanges with Japan were active. He also mentioned that Irish companies such as ATATools, Fexco, Kitman Labs, and Tirlan have expanded into Japan, and that the economic relationship between the two countries has been strengthened.
At this reception, Ambassador Cole prepared a program worthy of Irish cultural heritage. Beautiful Irish music was played by an ensemble with an Irish harp, and Irish dance was also performed. The venue was filled with excitement at the demonstration of Irish dance, which has many enthusiasts in Japan.
Ireland has writers such as Oscar Wilde, James Joyce, George Bernard Shaw and Samuel Beckett; musicians such as Bob Geldof, Bono and Enya; actors such as Colin Farrell; It is also an art powerhouse that has produced many classical musicians such as James Galway, flutist. At this reception, Ambassador Cole prepared a program befitting an art powerhouse. Beautiful Irish music was played by an ensemble with an Irish harp, and Irish dance was also performed. The origin of Irish dance, which is very famous in Japan, goes back to the 16th century.
Liberal Democratic Party Speaker of the House of Representatives Hiroyuki Hosoda and New Komeito Party member Mitsunari Okamoto took a commemorative photo with the Irish dancers, who performed wonderful dances.
The reception was full of heartfelt "hospitality-Omotenashi" from Ireland, including music, dance, delicious authentic Irish food that is hard to find in Japan, and traditional chocolates and biscuits brought from Ireland. Guests enjoyed endless conversations with many people and excellent Guinness beer.
This year's National Day Reception concluded with the hope that next year we will gather again to celebrate St. Patrick's Day and enjoy Irish arts and culture.