'Pope of Trash' John Water in Japan
John Water is not only a pope but also a legend in the film-making community. Bill Hersey was one of the few who had the opportunity to show John Water around when he visited Japan in 2001. Apparently, Bill kept a lasting relationship with the US filmmaker, writer, actor, and artist. This included meeting him on several more trips to Japan and receiving yearly Christmas cards from John.
Inspired by a recent post in the New York Times titled, "John Waters, an Auteur of Trash, Would Like to Thank the Academy" we publish Bill's memoirs on this eccentric but very creative artist age 76 who is truly the 'Pope of Trash.'
---
John Water is an American filmmaker, writer and visual artist, and art collector as well as being an interesting guy. I first met John when he was in Japan with our mutual friend, actor Stephen Dorff. They were here promoting the film Cecil B. Demented.
I first saw John's Pink Flamingos—a cult controversial film staring the huge transvestite 'Divine'—at a perfect venue for the film, a seedy theater on Honolulu's Kings Road. The film, along with two others, Female Trouble and Desperate Living were called the "Trash Trilogy".
Divine gained fame by doing something pretty weird at the end of Flamingos. I can't go into the details here, but it worked, shocking everyone and disgusting most who saw it. I was actually negotiating with Divine's manager to bring him (her) here to do his act in a dozen clubs I was working with at the time.
Unfortunately, he choked on a piece of meat in the middle of the night in the big apple—so he couldn't make it. He was a real individual and an original talent. John went to New York University, but quickly decided it wasn't for him and went back to his hometown Baltimore.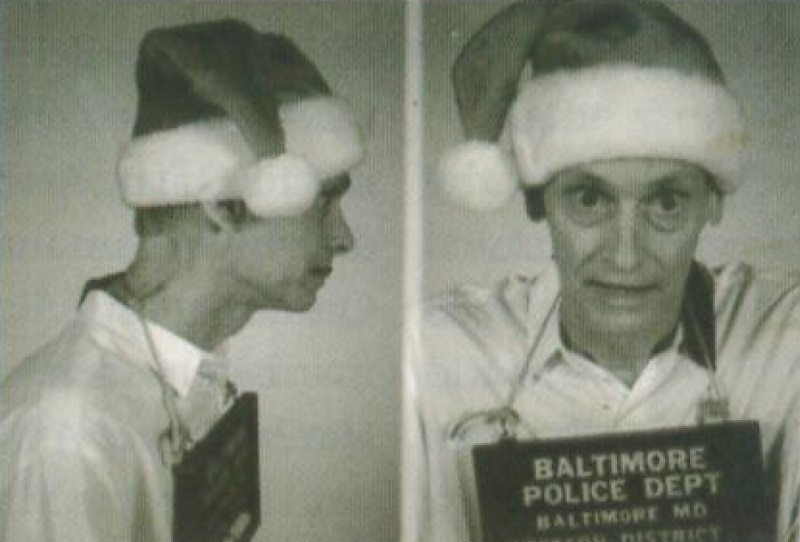 He still lives there and many of his films have been about life there. Over the years his films became a little less campy and a little conventional. These included, Crybaby, Serial Morn, and Hairspray. That one went on to become a hit award winning Broadway Musical. An American production of the show just had a months sold out run here, and GAGA films will release the re-make of the film here soon. John's next movie will be a children's film titled Fruitcake.
I've kept in touch with John over the years and have quite a collection of his off-the-wall Christmas cards. In addition to the one shown here, one is a photo of Elizabeth Taylor after her brain surgery and my and Bill Ireton's favorite—a clear Christmas tree ornament with a dead cock-roach inside.
Idiosyncrasies aside, John Waters is a very creative man and a really nice guy with a big cult following. He's also a professor of cinema and sub-cultural studies at the European Graduate School.

It was an honor to see, meet and John Water in Japan. In particular, I really enjoyed John's nights at the Lex where he was so laid back and so nice to everyone.
*First published in the Tokyo Weekender